Winnetka is a quintessential Midwest town located just 30 minutes north of Chicago along Lake Michigan. It is characterized by large trees, sidewalks, a housing stock consisting of both older and new construction homes and many parks and beaches.
One of the major draws of Winnetka is its proximity to downtown Chicago either by Metra Rail or expressway. There are three train stops in town making it an easy and affordable way to commute. The trains run often and are remarkably on time. Check the Winnetka Train Schedule. Driving your car to the station? Read Where to Park in Winnetka.
There are three swimming beaches in Winnetka: Tower Road Beach, Maple Beach, and Elder Lane Beach. In addition, there is Lloyd Beach boat launch and Centennial Beach just for dogs.
Location
Winnetka is located approximately 16 miles north of downtown Chicago along the shores of Lake Michigan.
To the south are Wilmette and Kenilworth, to the west are Northfield, Glenview, and Northbrook, and to the north is Glencoe, and to the east is the Lake.
Winnetka Video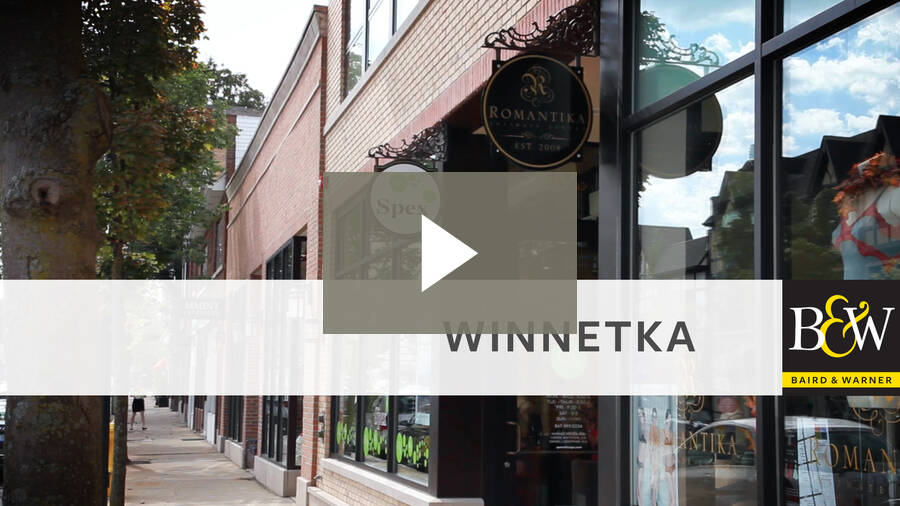 Demographic Information
Population (2014)
Total 12,490
Density 3,261 people/square mile
White: 88%
Black: 0.3%
Hispanic: 2.8%
Asian: 4.7%
American Indian: 0.5%
Other: 3.2 percent

Median household income in 2015: $211,773
Elevation: 650 ft.
Land area: 3.83 miles
Source: U.S. Census, Record Information Service
History
Winnetka's first settlers, Erastus Patterson, his wife Zeruah and his five children,
arrived in 1836. The family built a tavern to serve stagecoach passengers traveling the Green Bay Trail between Fort Dearborn in Chicago and Fort Howard in Green Bay, WI. Open lumber wagons making the 500-mile round trip offered space for both mail and passengers, and wayside inns like Patterson Tavern were a welcome respite from the harsh conditions of the trail.

In 1853, Charles and Sara Peck moved to the region. Working in tandem with Chicago & Milwaukee Railway president Walter Gurnee, Charles platted and subdivided 300 acres of land. Sarah named the new community Winnetka, after a Native American phrase meaning "beautiful land." Winnetka first incorporated as a village in 1869, with a population of 450.

In 1855, the Chicago & Milwaukee Railway was built through the village, and Metra trains still operate along its lines today A second railroad, the Chicago, North Shore & Milwaukee interurban was constructed in the early 1900s, but its tracks were removed in the 1950s and the land was repurposed as the 16-mile Green Bay Trail bicycle path.
Transportation
Winnetka commuters can catch Metra's Union Pacific North Line at Elm Street, Indian Hill or Hubbard Woods station. The area is also served by Pace bus and the Edens Expressway (I-94).
Schools
Winnetka spends approximately $7408 per student - the average school expenditure in the U.S is $5691. (Winnetka schools have long received national recognition for excellence.) Winnetka is served by Winnetka School District 36 and New Trier Township High School District 203.
Winnetka Public Schools

Grades K-4 are served by three public schools
Crow Island School (in blue on map below)
Greeley School (in yellow)
Hubbard Woods School (in green)
Grades 5-6: The Skokie School
Grades 7-8: Carleton Washburne Middle School.
Private schools include
Sacred Heart and Saints Faith, Hope and Charity are Catholic pre-K through 8.
The North Shore Country Day School is a coeducational, college prep school of approximately 500 students in kindergarten through 8th grade. You can find more private schools at Winnetka & North Shore Private Schools.

Most of the area's high school students attend renowned New Trier High School, with Freshmen at a separate Northfield campus and Sophomores, Juniors, Seniors at the Winnetka campus.

Winnetka is also home to several specialized schools, including the
French Institute of the North Shore
Restaurants
Avli Estiatoria is Greek for "courtyard restaurant." Enjoy delicious Greek food surrounded by friendly people in a relaxed atmosphere. The menu offers classics like Saganki and Dolmades, but also some regional dishes you might only find in Athens, like fresh octopus and greens with oil and lemon.
Fred's Garage opened in September 2017 in the old location of . . . Fred's Garage. Their menu features "reimagined and elevated American classics."
Mino's Italian opened in October 2017 in the old location of . . . a Volvo repair shop. Great bar and ambiance.

Chicago Magazine calls Chef Michael Lachowicz of Restaurant Michael the "last butter and cream man standing." Seasonally inspired French fare. Within the restaurant is George Trois, a ten-course French country dining experience held in their private room.

The Original Green Bay Cafe is the place to go for friendly service, rustic décor and great omelets and pancakes. Seasonal specials also regularly appear on the chalkboard of this snug breakfast nook. Must-haves include the bread pudding French toast and the tamale corn flapjacks.
Buon Giorno is perfect for breakfast and lunch - hearty meals, freshly made, lots of sandwiches, omelets, soups, and salads. Mary Jo, the owner along with her husband, freshly bakes cookies every morning.
Local restrauranteur, Michael O'Neil owns two restaurants in Winnetka: Little Ricky's, and Trifecta. Both have different menus and ambiance: Little Ricky's is casual barbecue and Trifecta is hip and young.
For lovers of Japanese food, try Kyoto, with a sushi bar and full menu.
Cafe Aroma, located at the corner of Elm and Lincoln, is a small sandwich and tea shop.
Stacked & Folded offers sandwiches, fusion tacos, and salads.
For great gourmet take-out food - try Trueman or Mirani's at Home.
For more area restaurants, please see North Shore Dining Guide
Park District
Winnetka has 23 community parks, 3 swimming beaches, a boating beach, a dog
beach, a 9-hole and an 18-hole public golf course plus an indoor ice rink. Details can be found on the Winnetka Park District website. The Winnetka Park District provides innumerable opportunities year-round for residents and non-residents alike.
Winnetka Churches
More Winnetka Links
Winnetka Public School District
Winnetka/Northfield Chamber of Commerce
Chicago North Shore Visitor's Bureau
Renaissance Chicago North Shore Hotel
Hilton Orrington Hotel Evanston